Warehousing & Logistics
Packaging Solutions
Learn More

Lumber
Packaging Solutions
Learn More

Meat & Poultry
Packaging Solutions
Learn More

Laundry Industry
Packaging Solutions
Learn More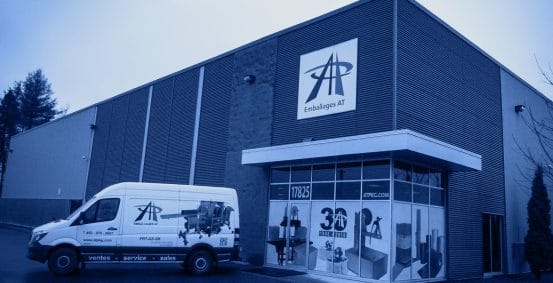 We create Alternative Technology
Since 1986,
AT Packaging
has contributed to many cost savings in the Packaging Industry by offering alternative technologies which benefits to all its partners.
Always looking for technological inventions applicable in Today`s Industry AT Packaging has tremendous technical capabilities to realize all your packaging projects.
AT Packaging provide maintenance, repair and suply parts for machinery or equipment of any brand, model, age.
Martin St-Michel,
Technical Director
24/7 Technical Support
Repair all brands
Maintenance Program
Equipment Rental
Onsite training
AT Packaging is specialized in sales and maintenance of packaging products and equipment.
Our service department, composed of qualified and trained technicians with electro-mechanical background specializing in packaging equipment, is a determining factor giving our customers access to state-of-the-art technical support. We are continually working with our partners' engineering teams to explore new technologies. All of our technicians are certified and participate in continuous training with our manufacturers. Our fleet of service vehicles combined with an extensive inventory of parts allow us to perform preventative maintenance or repairs directly at your facility.
SOLUTIONS
AT Packaging offers an installation, start-up and equipement shutdown & restart service as well as training for your users on the operation and maintenance of your new and existing packaging equipments. In addition, we have a wide variety of strapping and stretch wrapping machines available for short or long-term rental with the option to purchase which enables us to adapt solutions to all your applications.
SERVICE
We have a large inventory of parts and our team of specialized and experienced technicians offers a professional service, on your premises or in our shop.
MAINTENANCE
Ask us about our scheduled maintenance programs tailor-made to maximize the productivity of your packaging machinery.




What Our Partners Have to Say

"After that initial meeting, we were confident that
AT Packaging
would be an ideal partner. They were absolutely first rate in terms of technology expertise, and our cultures meshed."
(Packaging World Vol.23 Num.4)

"…
AT Packaging
and Rennco have helped a number of laundries automate their handling and bagging systems. Each of these projects delivered labor savings and excellent return on investment."
(Packaging World Vol.23 Num.4)

Martin Dubeau
Partagec Plant Manager
"The Province of Quebec, like many others, desires to improve health care and reduce ancillary costs. With our automated sorting and bagging system, Partagec has contributed to that provincial effort."
(Packaging World Vol.23 Num.4)

Jérémie Malfroot
Sales Director, Teufelberger
When the opportunity to be represented in Canada/Quebec by AT Packaging presented itself to Teufelberger, we didn't hesitate for a second.  AT Packaging is a human-sized company that upholds Teufelberger's values and we are proud today to be one of their major partners.